ARBA Cloud Point of Sale
Cloud POS or cloud-based POS is simply a Point of Sale System that is hosted partially or completely on the cloud. Corporate, Healthcare, and University retail and food service businesses are embracing cloud-based solutions because of their cost-effectiveness, ease of maintenance, and near 100% up-time.
ARBA Retail Systems offers three deployment options: Full Cloud, Hybrid, and On-Premises.
Full Cloud
The Full Cloud option consists of an on-premises user interface which operates as a thin client while connecting to the business logic and database, which are hosted on the Microsoft Azure cloud.
Hybrid
The Hybrid option consists of the user interface and business logic located onsite, with the database hosted on the cloud.
On-Premises
The On-Premises option is the traditional method with the user interface, business logic and database located onsite.
ARBA's Cloud POS solutions provide the robustness of an installed desktop application along with all the advantages of a cloud back-end. Unlike many other cloud POS solutions that offer a browser-based front-end, which is inevitably slower and susceptible to browser crashes, ARBA's front-end is a thin desktop application that is faster and more reliable, resulting in seamless transactions at the check-out points.
Hosted on Microsoft Azure™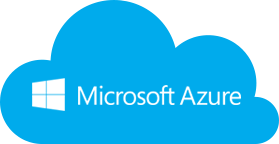 ARBA POS is hosted on one of the world's best cloud providers–Microsoft Azure, which is used by "over 53% of Fortune 500 companies."
Microsoft Azure offers better pricing and performance than Amazon EC2, "works seamlessly with your existing Microsoft applications," and is certified for Oracle applications and databases.
Cloud POS for Food Services and Retail
For the food services industry, ARBA has developed Cloud POS solutions for Corporate, Hospital and University/College cafeterias and coffee shops. ARBA has customized Cloud POS solutions for corporate stores, hospital gift shops, grocery stores, super markets, convenience stores, apparel stores and medical equipment stores. All ARBAPRO .NET POS products have inventory maintenance, financial tracking, and comprehensive reporting features. Other options designed to take your business to the next level include cashless payment/Payroll Deductions, gift cards, fundraisers, and customer loyalty programs, including email marketing functionality.
Advantages of ARBA's Cloud POS
Consists of a superior Windows 8 application, which is more reliable and faster than browser based front-ends
Available in desktop (touch screen) and tablet variants
Hosted on Microsoft Azure
One time license fee
Fully compatible with Windows 7, 8, and 8.1
Built completely on the latest Microsoft technologies (.NET & SQL Server 2008)
Compatible with SQL Server 2012, Windows 7, and Windows 8
Cloud POS VS. On-Premises POS
Conventional POS systems are completely hosted at the client's premises on the servers in client's location, with the client maintaining the software once the installation and integration is done. With the On-Premises model, the client also requires additional IT resources to maintain the server software. The software maintenance normally includes activities like software patch management and firewall, anti-virus, and anti-malware management for security. Additional care has to be taken to ensure power backup and internet connectivity are present all the time.
In Cloud POS deployments, click once deployment technology can be used to automatically update the client side software on demand, and it is much easier to support the Cloud for upgrades, updates, and troubleshooting. Client costs can be significantly reduced, as the client does not have to maintain the ARBAPRO software or server software. Additionally, the tier separation is controlled by configuration, which makes it easy to support disconnected scenarios.