POS & Inventory Management Solutions
ARBA Retail Systems is a leader in point of sale systems and inventory management software. We offer turnkey POS systems that help streamline your business and make it easier to manage your inventory.
Payroll deduction and POS
Payroll Deduction technology from ARBA Retail Systems helps your business' bottom line in not just one way, but at least three: Your employees get to purchase snacks or beverages from your cafeteria, break room, company store or cafe using money from future paychecks, so they are more productive. That money stays with your business, so your retail sales get a boost as well. And with this cashless payment option, checkout time at the cash register is faster and more seamless, too.
Of course, like any good POS option, the ARBAPRO POS system keeps track of your inventory — which helps with inventory management and cost control.
Who uses ARBAPRO POS solutions?
You'll find our turnkey POS solutions and cashless payment systems in a variety of settings, including hospitals, universities and corporations. But we also offer retail point of sale systems and inventory management software that are ideal for inventory management at multiple retail locations.
How we're different from other inventory management systems
Simply put, our scalable and secure POS systems are flexible enough to offer the lowest total cost of ownership (TCO) in our industry. We also keep our clients up to date with new product releases and updates. And since our software is both configured for your specific needs and is also available as a cloud-based SaaS solution, it's easy to keep tabs on your inventory from anywhere.
Contact us today to learn how our innovative inventory management software and POS solutions can bring higher levels of sales, profitability and convenience to your business.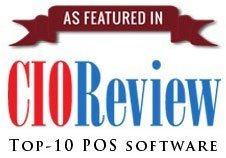 Each year
CIO Review
, headquartered in US with owned subsidiaries worldwide, showcases the most promising companies by segment, and this year the choice was retail.
OUR CLIENTS