Learn how ARBA customers have streamlined their operations and increased their profitability.  See how other business and institutions has leveraged their investment.
Werner Enterprises enhances employee convenience at onsite cafeteria with Cashless Payment option
Global transportation provider implements ARBAPRO Café Point of Sale System by ARBA Retail Systems, with Employee Payroll Deductions.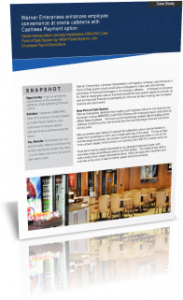 SnapShot
Opportunity: Improve employee convenience at the employee cafeteria, while tightening financial control.
Solution: Implement ARBAPRO Café POS Inventory Control System by ARBARetail Systems, with customized employee payroll deductions as a cashless payment option.
Key Results: Employees are now able to make cafeteria purchases by simply swiping the badge they carry, a much faster and more convenient alternate to cash.
Werner Enterprises, a premier transportation and logistics company; was looking for a Point of Sale system which would allow employees to make cash and cashless purchases of food and beverages in the company cafeteria. Enhanced convenience for Werner employees was an important benefit the new system needed to provide; as well as improved financial accountability for informed decision making, and increased revenue and cost control.


Download the full case study

Ephraim McDowell Regional Medical Center Implements ARBA Retail System's ARBAPRO Café as Their POS System
Hospital cafeteria increases revenue and enhances service and convenience for employees and guests by investing in new POS Softwares.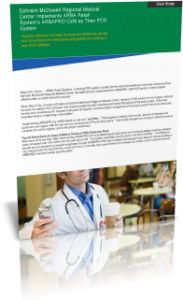 Naperville, Illinois – – ARBA Retail Systems, a leading POS system provider for the retail and healthcare industries, announced that Ephraim McDowell Regional Medical Center has selected and implemented the ARBAPRO Café POS system in their hospital cafeteria after a careful selection process.
When Mark Fluty, Director of Dietary at Ephraim McDowell Regional Medical Center, needed a POS solution for his hospital cafeteria; he knew he needed POS software that would increase his retail revenues and speed throughput at the point of sale. Enhanced service and convenience for hospital employees and guests, and automated management of employee payroll deductions were also important factors in selecting a new system.


Download the full case study