Physical inventory without an inventory device is a daunting yet necessary process to maintain a profitable business. Once or twice a year, retailers count every single item in their inventory and compare the totals with their records. This time-consuming process forces owners to shut down for at least a full day. Your only choices are between a manual process and printing worksheets or struggling with an archaic inventory device, just know that there is a better way.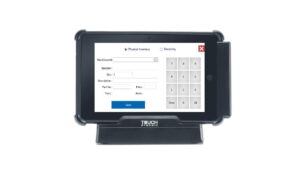 Introducing ARBA's Physical Inventory and Receiving Tablet, Our New Inventory Device
Step 1 Create a worksheet in the back office.
Step 2 count inventory with the tablet.
Step 3 view the variance report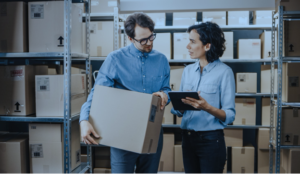 Included Receiving Capability of ARBA's Inventory Device
Take advantage of the tablet's receiving function to perform receiving remotely and wirelessly. First, scan received items with the tablet's built-in barcode scanner. Second, enter the quantity received. Third, your inventory is updated automatically.
Included Features of the Physical Inventory and Receiving Tablet
At first glance, the POS inventory software combines form with function and looks like it is built for the workday. Our tablet passes a 4-foot drop test on concrete and is water and dust resistant. Its bright display allows for easy reading during the day and its efficient power use will keep it going until sundown. If the battery dies, rest assured, each item is saved in the worksheet after it is counted. The Physical Inventory Tablet has a 10" touchscreen display with a built-in barcode scanner, RFID reader, and EMV chip reader. A durable case and ARBA's support give you peace of mind and protect your investment. Save hours every time you perform physical inventory and ditch the manual process.
Optional POS Add-on Features to Your Inventory Device
Take advantage of the tablet's mobility to unlock its many capabilities. For example, try the line-busting feature during peak business hours to watch your customers cruise through the line.  Ditch your bulky laptop and use the tablet to complete sales at your next fundraiser. Finish your work and store the tablet on an optional premium docking station which includes USB and HDMI ports. Purchasing the optional Bluetooth printer will meet your receipt printing needs.